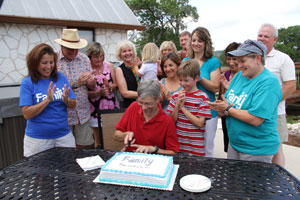 New Patient Forms
Patients 50 Years & Older
- PDF
Patients Under 50 Years Old
- PDF
Patients Updates
- PDF
New Patient Information
Thank you for selecting Family Practice Associates, PA for your health care. You, the patient, and your family are our prime concern. We wish to provide the very best for you and your family. If you have questions, comments or suggestions, we welcome them at any time in order to be of better service to you.

Please take the time to review the information provided here. Our website will hopefully provide you easily retrievable information concerning our office and practice. We enjoy dealing with the family and its individual members, and in our thirty plus years of service in the Hill Country, Family Practice emphasizes the various aspects of medicine which commonly involve the family unit. We shall therefore strive to provide, through the office, care for most of your medical needs. Our practice spans newborn care, pediatrics, adolescent medicine, and geriatrics.
Office Hours
Our regular office hours are 8 a.m. to 5:00 p.m. Monday through Friday and 8:00 a.m. to 12:00 p.m. Saturday, except holidays. Appointments during the noon hour are available with some of our doctors. During the week days we offer full service, including procedures and minor surgeries.
After Hours
We have a planned on-call schedule such that each night and week-end, one of the providers from this office will be available for emergencies. This, we hope, provides our patients with the constant availability of a familiar doctor. To determine which provider is on call for that night or weekend, please call the office number 830-896-4711 after hours, where your call will be answered by our phone system and the appropriate provider name, pager number and home telephone will be given.
Calls requiring medical attention that are received by a provider who is not on call will be referred to a provider on call. We ask that you respect our time off as well as the fact that we will keep one of our providers available to handle our patients' needs. We feel assured that 24-hour-a-day coverage by a well-rested provider will better serve your medical needs. There is a charge for all after-hours telephone calls.
Fees
Our fees are comparable with those of the other practicing physicians in the community and this area of Texas. Our fees are increased only when higher administrative costs necessitate such action. Our office will readily furnish a quotation of customary and usual fees for common services. We encourage a frank discussion of fees at anytime.

A medical office is not unlike any other business office. It is customary to expect payment at the time services are rendered, unless prior arrangements have been made. Full payment is required on the first visit. We also expect payment at the time services are rendered for all routine services, both in the office and in the hospital. Under special circumstances or when unexpected large cost occurs, our business office will work out arrangements to lessen the burden. We expect our patients to work with us to arrange a reasonable payment of their account, just as they would for other business concerns.
Insurance
The responsibility for payment of fees is the direct obligation of the patient. Our office accepts assignment from many insurance companies, but not all. Please be advised that we are not in network with any Medicare Advantage Plans. Our office will be more than happy to assist you. We realize that filing insurance is not as easy as it has been in the past, though each patient is responsible for filing their own insurance with their respective company. Please have insurance information ready at your visit, so this information can become a part of our permanent record. If we are required to fill out additional forms or letters, a charge for this may be rendered.
Telephone
We are available to our patients day and night. If you have a problem or questions after hours, please call our office number 830-896-4711 to get instructions for the doctor on call. If it is a true emergency, please go to the nearest emergency room.
For non-emergency questions and problems, please call our office during regular hours. Our office staff will take the appropriate information and distribute it to the doctor. Please give detailed information so the doctor will be able to evaluate your needs as quickly and thoroughly as possible. All issues will be addressed and handled as soon as possible. If you feel your problem or situation is an emergency, please say so and we will handle the situation as a priority. Please understand that many diseases have the same symptoms. For this reason, most conditions cannot be treated over the phone. We hope that you understand this is done for your best interest.
Appointments
All visits to our office are by appointment only. Our receptionist will inquire of your medical concerns in order that sufficient time be set aside on the appointment schedule. Please give them adequate information and note your insurance provider or if you do not have an insurance provider at this time. We firmly believe in the value of your time and will try our best to honor it. However, illness is not "scheduled." Emergencies do occur and some operations occur at unexpected times – all of which cause unforeseen delays. We will work diligently to keep you informed of these situations and request your patience and understanding.
It is helpful to schedule appointments for routine follow-up care, physical exams, camp physicals, and school physicials several weeks in advance. This will allow us to give you the most convenient time and is helpful in arranging a daily schedule.
There will be instances when acute illnesses and problems need to be seen the day of occurrence or shortly thereafter. These will, of course; be handled with minimum delay, but please call the office before coming in. You will be worked in as quickly as possible. We offer some early morning appointment times at 8:00 a.m., noon time appointments, and Saturday morning appointments as well.
If you cannot keep your appointment, please call to cancel. This serves as a courtesy to others who could be seen during this time. A fee is charged for missed appointments.
Laboratory & X-Ray
For your convenience, we have an X-ray unit and laboratory capable of doing standard testing, screening and culturing. Mammograms, sonograms and bone density testing for osteoporosis are also available. Our X-rays are usually sent to a radiologist for a formal interpretation. You will receive a bill separate from that of our office for their interpretation fee. Please feel free to discuss this with the doctors or our office staff.
Prescriptions
Our office will gladly assist you in phoning in, writing or sending your prescriptions electronically at the time of a regularly scheduled office visit.
Should you need more medication after hours, pharmacies have been instructed to refill enough medication to supply you until the following morning or until the weekend is over. We encourage you to be mindful of your prescription supplies to avoid running out over a weekend.
Emergencies
Should a true emergency arise, call immediately. We are available at all times for emergencies and serious illnesses. Call the office during office hours. After hours, call the office to determine which doctor is on call and call the physician at home. Unless it is a life threatening emergency, call before going to the Emergency Room. A telephone call will sometimes save you time and expense of an emergency visit. Also we can alert the emergency room of your arrival and expedite care of your problem.
We are fortunate in Kerrville to have 24-hour-a-day coverage by trained emergency room physicians. Their very presence insures prompt handling of acute life threatening emergencies, not only in the emergency room, but also in the hospital itself, at times when no other physicians are in the hospital. We are comfortable with their training and expertise and will generally refer you to be seen by them for after-hours medical needs. After evaluation of your condition, that physician will usually be in contact with us. Treatment will be given or started by the emergency room physician and you will be referred to our office for a follow-up. We feel this policy makes the best use of your time by avoiding long waits and is also more efficient for the doctors of the community who provide emergency coverage.