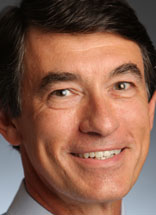 Provider Details
Dr. Sprouse and his wife, Jeri, have 2 grown children.

Over the years he's coached youth sports, for hundreds of children, including those both older and younger than his own.
David and Jeri are active members of Trinity Baptist Church, where he serves as an adult Sunday School/Bible Study teacher. He has served on the Kerrville ISD school board since 1998. Hobbies David enjoys are snow skiing, dove hunting, and hiking the mountains of Colorado.

Favorite Quote: "I slept and dreamt that life was all joy, I awoke and understood life was but service, I served and realized service is joy." Sir Rabindranath Tagore (1861-1941)
David Sprouse, M.D.
Professional Experience
Family Practice Associates; Kerrville, TX, 1989-Present
Sid Peterson Memorial Hospital/Peterson Regional Medical Center; Kerrville, TX. Active Medical Staff, 1989-2010
Community Medical Staff, 2010-Present
Board Certified - American Board of Family Practice; 1989-Present
Recertified 1995, 2001, 2008
Education
Baylor University; Waco, TX
B.S. in Biology, 1982
University of Texas Medical School; San Antonio, TX
1982-1986
St. Paul Catholic Hospital/Parkland Hospital; Dallas, TX
Family Practice Residency, 1986-1989
Professional Memberships
American Academy of Family Physicians
Texas Academy of Family Physicians
Texas Medical Association
Executive Boards
Kerrville ISD School Board; 1998-Present
Served as President for multiple years
Peterson Regional Physician-Hospital Organization Board of Directors; 1992-1998
Served as President for one year
Sid peterson Memorial Hospital; 1998
Chief of Medicine Service