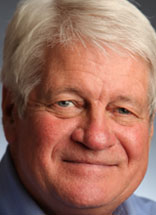 Provider Details
Date of Birth: January 22, 1947
Place of Birth: Perryton, TX
Citizenship: United States of America
Marital Status: Married
Children: Two
Hobbies: Snow Skiing, Flying, Upland Bird Hunting, Metal and Woodworking

Kerrville/ Kerr County Airport Board
Former Member for 22 years
Chairman for 5 years

Kerrville Chamber of Commerce
Former Board Member

Kerrville Economic Development Foundation
Former Board Member

Union State Bank
Director 1999- Present

Austin Graduate School of Theology
Trustee 1978- Present
Chairman Board of Trustees 1999- 2002

Kerrville Church of Christ
Member 1977- Present


My name is Dr. John Davis, but my friends and many of my patients just refer to me as Dr. John. Over 37 years ago, I started Family Practice Associates here in Kerrville. Through the years I have shared many wonderful experiences with my patients and I have also shared in their times of distress and death.

One of the joys of being a family doctor is taking care of the whole family. Through the years I have delivered hundreds of babies here in the Hill Country. Although I do not currently deliver babies, it is great to take care of young children and their families. In fact I currently have several families in which I see four generations.

My medical interests include pediatrics, especially children with attention deficit hyperactivity disorder and related problems, and aviation medicine. As a result of living in the Hill Country, I have developed a large allergy practice throughout the years. Although, I no longer do surgery in the hospital, I continue to have an active office surgery practice.

When I am not taking care of patients, I can often be found flying my airplane as I have a great love for aviation. I am a senior medical aviation examiner and take care of a number of airplane pilots. I served on the Kerrville/Kerr County Airport Board for 22 years.

I also enjoy hunting, especially dove and quail hunting in the fall. I have occasionally been known to shoot a deer that wandered too close. I love the health benefits of eating wild game and do most of my own processing including making sausage.

My wife Billie and I married in 1968. Since 1977 we have lived in the Hill Country. We raised our two wonderful children here. After teaching school for nineteen years, Billie retired in 2012. She plans to continue to be active in worthwhile community and church volunteer programs.

My most recent interest is my grandson who lives close by. I enjoy watching him grow up and learn. His father, who is also my son, practices chiropractic medicine next door to my office. He also provides physical therapy services for my patients here at Family Practice Associates. He and his wife are planning to build their house on a hill overlooking our house in Hunt.

My daughter lives in Chicago, Illinois. She is a Marine Biologist by education and training and has the fantastic job of training dolphins and whales for the Shedd Aquarium.

I have been an active member of the Kerrville Church of Christ since 1977. I have been on numerous community boards and remain active in community affairs.
John Davis, M.D.
Education
The Univeristy of Texas; Austin, TX
B.S. Degree in Pharmacy, 1970
Honors: Rho Chi

UT Southwestern Medical School; Dallas, TX
M.D. Degree, 1974

John Peter Smith Hospital; Forth Worth, TX
July 1, 1974- June 30, 1977
Licensure and Certification
Texas License, License # E 2531 August 18, 1974
Board Certification: Certified by the American Board of Family Medicine 1977-2015
Professional Affiliations
Texas Medical Association
American Academy of Family Practice
Texas Academy of Family Practice
Flying Physicians' Association
Hospital Staff Appointments
Peterson Regional Medical Center; Kerrville, TX, July 1, 1977- Present
Privileges: Community, Chief of Staff, 1984 and 1992