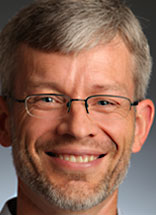 Provider Details
Karsten Tucker received his medical degree and residency training
from UTMB in Galveston, Texas. Dr. Tucker and his wife Bel have
three sons and one daughter, Jonathan, Sam, Luke and Terah. Dr. Tucker
has an active interest in hiking, camping, triathlon, running, biking,
and skiing. He looks forward to time spent with his family.
Karsten Tucker, M.D.
Education
Mills E. Godwin High School; Richmond, Virginia
1980-1983

James Madison University; Harrisonburg, Virginia
B.S. in Chemistry, 1983-1987

University of Texas Medical Branch; Galveston, Texas
M.D., 1994-1998

University of Texas Medical Branch; Galveston, Texas
Family Practice Residency, 1998-2001
Professional Experience
Family Practice; Kerrville, TX
2001 to present
Peterson Regional Medical Center
Medical Staff
2001 to present
Professional Memberships
American Academy of Family Physicians
Texas Academy of Family Physicians
Texas Medical Association
Certifications
Board Certified - American Board of Family Medicine
2001 to Present